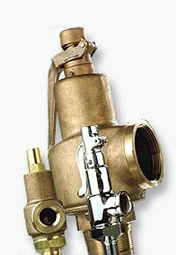 Aquatrol
Aquatrol was founded in 1947 by Lyman J Lowden, who owned an engineering firm specializing in the development of municipal power, steam and water filtration systems. During LJ's tenure he discovered a need within the safety and relief valve markets and founded the company. Aquatrol quickly became a recognized brand, focused on producing ASME regulated bronze safety and relief valves, servicing the OEM and quality driven marketplace.
Aquatrol manufactures ASME regulated, national Board Certified Safety valves. Section I (V) and VIII (UV) rated for steam, air and gas applications, as well as a full line of liquid relief valves.
Valves are interchangeable with all safety valve manufacturers and available with the full array of trimming, seating and options. All Aquatrol products go through rigid quality control, setting, testing and re-testing to each customized application prior to the code stamping process.
All valves can be custom set from inventory on an as-needed basis. Please specify series, piping size, set pressure (psi), service (steam air or gas) when ordering as well as any special options, as required.