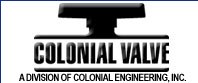 847-356-0566 Tel 847-356-0747 Fax sales@mmcontrol.com
Since 1972, Colonial Engineering, Inc. has manufactured and marketed thermoplastic pipe fittings, valves, and piping components to wholesalers in the industrial PVF, process piping, water treatment, pool/spa, commercial plumbing, and irrigation markets.
The Colonial Valve line has answered the need for reliable flow control for over 25 years. Our offering includes corrosion resistant Ball Valves, check Valves, Butterfly Valves, Y-Line Strainers, and Unions.
Thermoplastic Valves

A complete line of thermoplastic valves, designed and engineered for easy operation and trouble-free service in the harshest environments.

New Replacement Cartridges


New Butterfly Valve Flange Contractor Kit

Includes PVC Butterfly Valve, Two Lasco PVC Van-stone Flanges, and Bolt kit. All packed in one heavy-duty corrugated carton for delivery to jobsite.

Eliminate Water Hammer with
Slo-Close Valves

Patented thermoplastic gear driven operating nut rotates 360° to achieve a 90° turn of the ball. The result is slow closure and the elimination of water hammer, while maintaining the positive shut- off and reliable service of a ball valve.

Y-Line Strainers and Foot Valves

Y-Line strainers are used for filtering particles that could cause damage to pumps and other process equipment.

Unions

High pressure capacity makes this a robust piping solution for commercial, industrial, agricultural