About MASONEILAN Brand
*MASONEILAN and CONSOLIDATED are trademarks of the General Electric Company or its affiliates.
Originally founded in 1882 by inventor William B. Mason,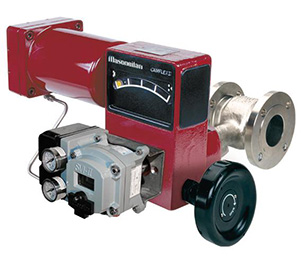 the original Masoneilan company has been a major pioneer in the valve and process control industry for over a century. Today, GE owns the MASONEILANTM Brand and is the only source for its genuine, OEM parts and services. GE continues the Masoneilan company's legacy of providing unparalleled technical leadership and developed innovative ideas and solutions. Customers worldwide rely on MASONEILAN Brand control valve products to deliver reliable, customized solutions for oil and gas, power, and process generation applications.
Some of the Masoneilan company's accomplishments over the years include:
Patented steam reducing valve - 1880's
Developed revolutionary concept for sizing valves in the 1940's
Introduced the first "universal" control valve (Camflex) - 1960's
Launched micro-processor based instrumentation (SVI) - 1990's
Today, as part of GE, MASONEILAN Brand automated process control solutions are known for their quality and dependability. These solutions are part of the portfolio of GE valve technology that has helped customers maintain smooth operations and protect process industry assets around the world for more than 100 years.
Phone: 847-356-0566 Fax: 847-356-0747 E-Mail: sales@mmcontrol.com
Select any of the category headings, images, or text links below for additional information.
*M&M Control is neither affiliated with GE nor an authorized distributor of MASONEILAN Brand valves, parts or services.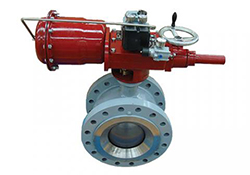 MASONEILAN Brand Rotary Control Valves are known throughout the world for their quality and durability and have been successfully installed in a variety of process industries and applications.
Today MASONEILAN Brand rotary valves continue to offer dependability, and a unique combination of high capacity and turndown capability. Available in various dimensions, it offers flexibility to match existing installations.
Additionally, rotary control valves can simplify maintenance to help reduce downtime and life-cycle cost.
Not sure which valve you need for your application? Call M&M Control* for assistance at 1-800-876-0036.
GE's MASONEILAN Brand globe valves can handle a wide variety of process control applications. There are many optional packages available that can help reduce noise, vibration and contain cavitation.
Features & Benefits
Balanced trim design. Smaller actuators reduce overall assembly size and weight. Heavy cage-guided construction. Heavy guiding of the plug enhances throttling control performance. Few soft goods . . . reliability & low maintenance. Standard solutions to control noise, cavitation & valve leakage. Versatile valve technology. Robust construction and long-term smooth operation. Process control and high process yields.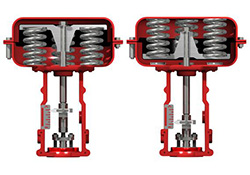 GE offers a variety of MASONEILAN Brand valve actuators suitable for a wide range of applications. The portfolio includes pneumatic valve actuators, piston actuators, spring diaphragm actuator, and multi-spring actuators to improve actuation capability, simplicity and safety.
A variety of actuators are available to handle low to high pressure drop requirements.
The MASONEILAN Brand Type 87/88 Pneumatic Diaphragm Actuator is used in a wide range of globe control valve applications.
MASONEILAN Brand Type 37/38 Pneumatic Diaphragm Actuatorr is designed for use in globe control valve applications requiring longer strokes and higher thrust.
MASONEILAN Brand Pneumatic Piston Actuators meet requirements that exceed the typical capabilities of pneumatic spring diaphragm actuators.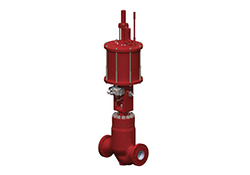 MASONEILAN Brand's severe service valves are uniquely designed to operate reliably in tough environments. These valves are highly engineered and specifically designed for applications with large mass flow rates and high differential pressures.
Features & Benefits
Energy management trim solutions: • Multiple heavy-duty valve technologies
• Customized to meet your requirements • Reliable in extreme conditions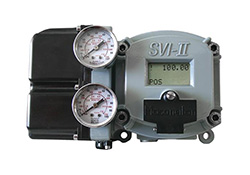 GE offers a portfolio of MASONEILAN Brand digital valve positioners that provide continuous, offline, online diagnostics for online control valve monitoring, high-end component health and predictive valve maintenance.
Features & Benefits
• Reliability for higher output • Platform flexibility for easy integration • Online diagnostics for improved operation • Superior control and accuracy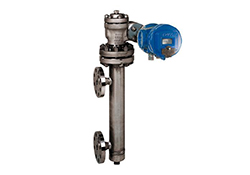 GE offers proven level technology for process control applications. MASONEILAN brand's level design combines with advanced digital level transmitter/controller technology to deliver reduced complexity, reduced time and cost, and enhanced measuring precision.
Features & Benefits
With features such as smart filtering, HART® communication protocol compatibility and an optional 4-20mA analogue output signal, the MASONEILAN brand 12400 Series level transmitter offers exceptional process control for a wide range of applications, including severe service. It is engineered for efficiency, upgradeability and reliability.
MASONEILAN brand level transmitters offer customers range of benefits including:
ATEX, IECEx, FM, FMc and SIL2 certifications (12400 series levels only)
High temperature and pressure rating allowing long life in a wide range of severe applications.
Non-contact sensor reduces wear and increases product life and reliability.
Smart filtering to reduce oscillations for high accuracy.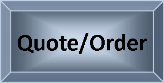 M&M Control offers MASONEILAN Brand Products, but is neither affiliated with the OEM, GE, nor an authorized distributor of MASONEILAN Brand valves, parts or services.
Request Quote/Order.