ASME Section VIII - NB Certified for Air, Gas and Steam applications.
SIZES 1/4", 3/8", 1/2", 3/4", 1" PRESSURE TO 200# TEMPERATURES TO 406O (STEAM)

Our Series 120's and 130's (air, gas and steam) safety valves are designed for safety and pressure relief/regulation for light and medium capacity applications; where a smaller sized valve is needed. Many are manufactured to meet specific field and OEM applications.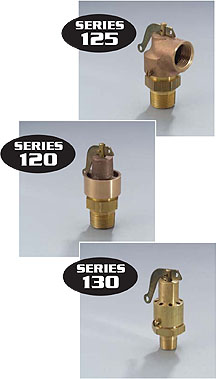 Usages:
• High quality smaller valve
• Compressors
• Receivers
• Gas lines
• Steam lines
• Air and Gas receivers
• Piping system/tanks
• Steam cleaners, sterilizers
• Autoclaves

Features:
• Fixed blow-down
• Brass and bronze construction
• Metal-to-metal seating
• Rugged, yet economical
• Stainless steel springs
• Factory set and sealed
• Excellent seat tightness

Options:
• Stainless seat and disk
• Polishing and chrome plating
• Oxygen cleaning
• Variety of inlets, outlets and lift levers
• Many configurations (not shown)




*FIXED BLOW-DOWN CAN BE CUSTOMIZED TO YOUR APPLICATION*
LIFT LEVER IS REQUIRED BY THE NATIONAL BOARD FOR STEAM SERVICE