SIZES FROM 1/4", 3/8", 1/2", 3/4"

Series 140 (Steam, Air and Inert Gases) is a ball-seated safety valve used for applications where higher capacity may be required with a smaller sized valve. Designed, tested and built for heavy-duty applications.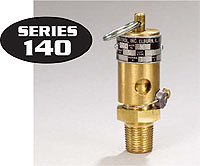 Usages:
• Pressure relief, overpressure protection
• Higher capacity levels

Features:
• Economical
• Fixed blow-down

Options:
• Brass, Teflon or Stainless Steel ball-seat
• Ring (showing) or handle style lift lever
• Stainless steel or brass valve

Capacity charts, flow ratings and assembly prints are available.