Sizes from 1/2" to 3" Pressure to 250# Temperatures to 406°
ASME Section Vlll - NB Certified for Air, Gas and Steam applications.
Series 88 and 89 are Multiple Purpose Safety Valves for steam, air or gas protection. Designed for durability, yet an economical choice for safety and relief applications. UV stamped; factory set and sealed. Choose for a variety of applications.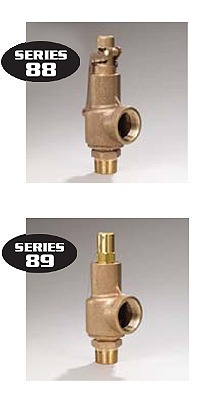 Usages:
• Over-pressure protection
• Pressure vessels
• Piping systems
• Safety relief
• Compressors and dryers
• Vacuum relief
• Pressure reducing stations
• Intercoolers and aftercoolers
• Pressured piping lines and tanks

Features:
• Adjustable tuned blow-down
• Precision lapped metal-to-metal seating.
• Stainless steel springs
• Ruggedly constructed
• Closed seal hex cap or lever* option
• Wide variety of inlet and outlet options
• Disk-guided seat provides quick, accurate and excellent re-seating

Options:
• Stainless steel whetted trimming (seat and disk)
• Chrome plating
• Oxygen cleaning
• Female inlet
• BSPT connections

* LIFT LEVER IS REQUIRED BY THE NATIONAL BOARD FOR STEAM SERVICES.
* 2-1/2" and 3" are not NB Certified.