Gems Sensors & Controls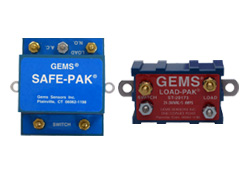 Gems Sensors Electronic Relays are rugged and dependable solid-state relays that provide long service life due to its completely encapsulated construction that is impervious to shock or vibration.
GEMS solid-state switching units perform the functions of electro-mechanical relays, with the added reliability and advantages inherent in solid-state.
Gems Sensors also offers intrinsically safe (IS) relay options (SAFE-PAK®).