Gems Sensors & Controls/Warrick Conductivity Controls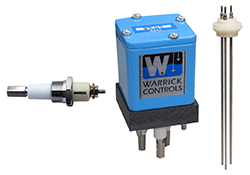 Gems Sensors Fittings and Probes
Gems Sensors Warrick® Liquid Level Sensors are available in single and multi-probe models with a variety of fittings. The versatility of the Warrick® design makes these sensors ideal for a diverse range of applications including food & beverage, sumps, reservoirs, pharmaceuticals, boilers and steam generators, ponds, sewage and wastewater, and caustics and acids.
Gems Sensors & Controls/Warrick Conductivity Controls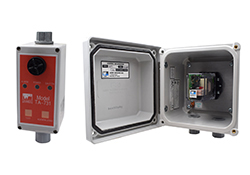 Gems Sensors Panels, Alarms, and Kits
Gems Sensors offers panels, alarms and kits for its Warrick® conductivity controls. If standard panels do not fit your needs, Gems can custom design one that does.
Gems Sensors & Controls/Warrick Conductivity Controls
Gems Sensors Warrick Liquid Level Controllers
provide dependable no-moving-parts control and monitoring of conductive liquids. They are available in general purpose water level, low water cut-off, DF Series liquid level control, Series 67 multi-function level control, liquid level relays and intrinsically safe controls. The concept is simple: Take advantage of a liquid's conductive properties to complete a circuit and cause a control relay to actuate. Use of permanently mounted stationary electrodes gives the user precise accuracy, repeatability, and no-moving-parts reliability. This simple concept has led to the development of a complete line of conductivity-based liquid level detectors, water level detectors, and control units and electrode fittings. Gems also has the capability to custom configure liquid level control units and electrode fittings for OEMs to meet specific application requirements.
Gems Sensors and Controls/Warrick Conductivity Controls
Gems Sensors Mechanical Tilt Level Sensors
are designed for level control and alarm applications in difficult liquids such as sewage and wastewater. The Gems Sensors Series M mechanical tilt floats are ideal for applications where the presence of mercury is a concern. Series M Switches have an impact resistant ABS shell and jacketed cable.