STOCKHAM | Gate Valves | CRANE Co.


Phone: 847-356-0566 Fax: 847-356-0747 E-Mail: sales@mmcontrol.com

Stockham Gate Valves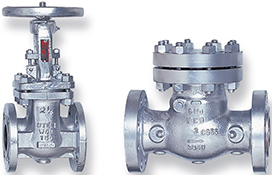 Stockham Gate Valves serve as efficient stop valves with flow in either direction. They are commonly used where a minimum pressure drop is important. Throttling is not recommended because partially open gate valves exhibit flow characteristics not conducive to accurate and consistent flow control. Also, the valves may be damaged by the high velocity across the seats. They function best fully open or fully closed.
Key Features & Benefits
Cast Steel Gate Valves:
Classes 150, 300, and 600
Sizes: 2" to 24"
Flexible Disc
Flexible Wedge


Compensates for deformation of body due to pipe stresses




Will not stick when valve is closed hot and allowed to cool

Welded-in Seat Ring


Seat ring is seal welded to eliminate leak path

Gear Actuators recommended:


Class 150: sizes above 10"




Class 300: sizes above 8"




Class 600: sizes above 6"

Standard material is ASTM A216 Grade WCB
Standard trim is API #8 (13% Cr to hardface) which is suitable for a wide range of applications
Iron Gate Valves:
Classes 125 and 250
Sizes from 2" to 24"
Solid wedge gates with rising and non-rising stems
Bronze Gate Valves:
Classes 125, 150, 200, and 300
Sizes from 1/4" to 3"
Low Lead Valves: Class 125 / 2o00 CWP
Solid wedge gates with rising and non-rising stems
Union bonnets and robust stainless steel disc and seats
in higher pressure classes for added durability
Threaded, flanged, or solder ends
Can't find what you are looking for?
Call or E-mail Now . . . for Immediate Service, Pricing, and Delivery
* * * 800-876-0036 * * *
Phone: 847-356-0566 Fax: 847-356-0747 E-Mail: sales@mmcontrol.com