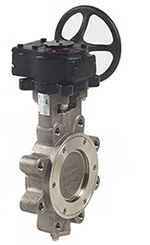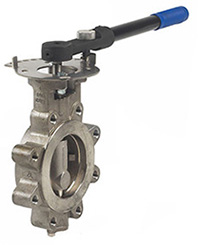 High Performance
High performance butterfly valves from Milwaukee Valve are available in sizes ranging from 2-1/2" to 24" for Class 150 ratings, and 2-1/2" to 16" for Class 300. Dependable and durable service is assured with one-piece stem and stainless steel backed reinforced PFTE bearings.
Rubber-Lined
Milwaukee Valve rubber-lined butterfly valves are resilient. Seated wafer & full-lug body styles are available in sizes 2" - 48". Double dead end service is available from 2" - 12". Dead end service is available up to 24".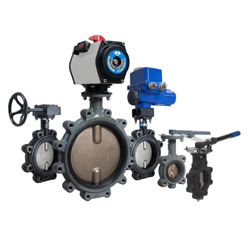 All iron butterfly valves have phenolic-reinforced liners and 416 SS blowout proof stems. Liner materials include EPDM, Buna-N, Viton, Hypalon, and FDA Neoprene. Disc materials include aluminum bronze, DINP, 316 SS, epoxy, and nylon coated. Operators include 10-position lever (locking standard), gear operators, and stem extensions.
All Milwaukee Valve butterfly valves can be easily automated with pneumatic or electric actuators.
Milwaukee Valve's butterfly valves also meet the low lead requirement in which the wetted surface (in any material combination) contacted by consumable water contains less than one quarter of a percent (.25%) of lead by weight.