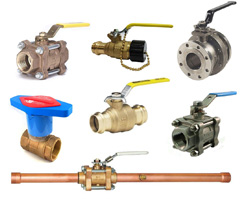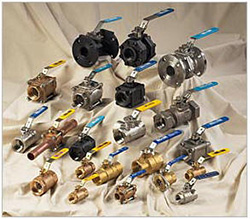 Industrial and Commercial Ball Valves
Milwaukee Valve offers a full line of ball valves in a variety of body materials including their UltraPure Low Lead bronze and brass, standard bronze, brass, stainless steel, carbon steel, Monel, and alloy 20. Available in sizes 1/4" to 12".
All of Milwaukee Valve's UltraPure Low Lead bronze and brass ball valves have RPTFE seats and seals, adjustable stem packing, and blowout proof stems.Two-piece and three-piece valve styles have a wide variety of trim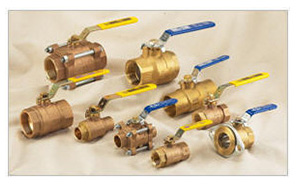 and operator options including locking handles, oval handles, "T" handles, stem extensions, actuators, and the Insulator MS Handle.
Milwaukee Valve carbon steel, stainless steel, alloy 20, and Monel valves are available in one-piece, two-piece, three-piece, unibody, and split-body flanged end. End connections include FNPT, socket weld, butt weld, and ANSI 150 and 300 flanged. Locking, oval, and extended handles are available as well as electric and pneumatic operators. Special preparations such as fire-safe, chlorine prep, and cleaned for oxygen service are also available.