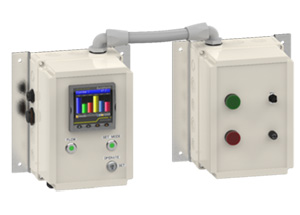 NEPTUNE Digital Mixing System Package
Model: Digital Adjustment
Lawler's NEPTUNE Digital Adjustment Package provides digital monitoring of inlet, outlet, and recirculation temperatures via either the building management system (BMS) or the web-based interface. It enables remote digital adjustment of the outlet temperature via BMS. Digital temperature adjustments and pump control can also be made locally.
The NEPTUNE Digital Adjustment Package also provides continuous and comprehensive data logging, and access privileges and/or local lock-out security key system. The system maintains set temperature even if power is lost to the digital system.
Customers selecting Lawler's NEPTUNE Digital Adjustment Package are typically in environments where owners need an intelligent "no excuses" system with 24/7 secure access, remote AND local digital monitor/adjust features, data logging, and digital alarm features.