Air-Operated Diaphragm Pumps
Series DH Aluminum Pumps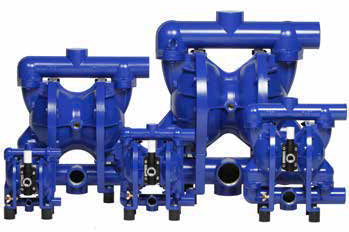 New Multi-Port Design Air-Operated Diaphragm Pumps
Aluminum pumps are used in paint, varnish, automobile, waste water, ceramic, porcelain, mining, building and chemical industries. More than 20 models with different sizes and designs are available to serve almost any type of application.
1/2"-3" Pipe Sizes
5-100 psi Air Pressure
FA Pump Types
Features & Benefits
The sturdy cast aluminum construction ensures high abrasion resistance when pumping abrasive media, a low flow resistance due to the high surface finish, availability throughout a wide temperature range, excellent corrosion resistance, and a long lifetime. In combination with the well-established control system, these compact and powerful cast aluminum pumps are easy to transport and are therefore used as both mobile units or stationary equipment. During the development of the pumps, great attention was paid to service friendliness, in order to minimize downtime.
Flexible Multiport Connections
A customized manifold design that improves ball valve guidance, increases functionality and provides up to 25 different installation options.
Error free assembling in combination with single-center block.
Multi-porting provides many options for installation, such as easy vertical orientation for emptying of drums and no need for additional adapters.