Gems Miniature Solenoid Valves: Gems offers a complete range of 2-way normally open/closed, 2-way normally closed, and 3-way directional miniature solenoid valves that are available in general purpose, cryogenic (-320°F), and isolation types. Rugged construction incorporates a bubble tight plunger for reliable operation over millions of cycles without failure, making them ideal for use within demanding environments.
Miniature Solenoid Valves
Gems Sensors & Controls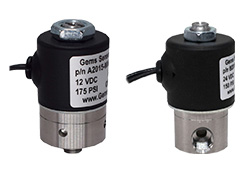 Gems Sensors Miniature Solenoid Valves
provide dependable operation for general purpose and high-flow applications. The A Series valves are ideal for general purpose applications up to 1,000 psi (69 bar) such as medical, food processing, automotive and industrial applications. The B Series valves serve most general-purpose applications including printing, HVAC, semiconductor equipment, and medical equipment. The C Series features higher Cv rates for automotive and industrial applications and the D Series accommodates high flow options for agricultural, industrial, and medical applications.
Subminiature Solenoid Valves
Gems Sensors & Controls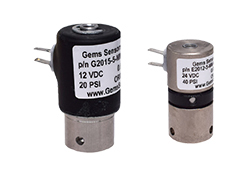 Gems Sensors Subminiature Solenoid Valves
offer solutions that meet pressures up to 250 psi (17 bar), Cv range from 0.018 to 0.070 and as low as 0.5 Watts. Typical applications for subminiature solenoid valves include medical, clinical chemistry, laboratory, water purification, analytical equipment, printing equipment, and general industrial applications.
Specialty Solenoid Valves
Gems Sensors & Controls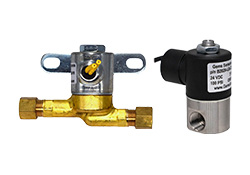 Gems Sensors Specialty Valves
include latching valves, cryogenic solenoid valves and humidifier valves. Latching valves are ideal for natural gas applications, gas chromatography, and irrigation systems. Gems Sensors cryogenic solenoid valves are ideal for environmental chambers, food processing, laser/surgical systems, and semiconductor equipment.
Isolation Solenoid Valves
Gems Sensors and Controls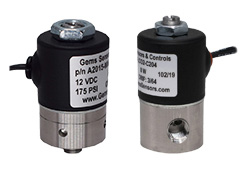 Gems Sensors Isolation Valves
deliver accurate, reliable, and long-lasting flow control in applications with aggressive liquids or gases - through inclusion while keeping media separate from certain valve components. With a variety of body and diaphragm materials, as well as a wide range of port configurations, voltage options, and coil construction, Gems Sensors isolation valves are suitable for applications such as clinical chemistry, analytical instruments, medical diagnostics, and more.
Gems Sensors & Controls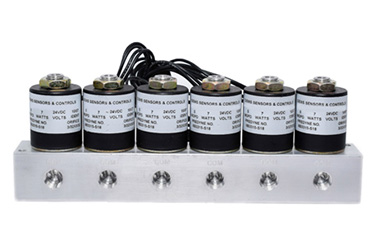 Gems Solenoid Valve Manifolds
are 303 stainless steel manifolds that can be used with any Gems solenoid valve manifold mount type A Series or B Series valves. Specify the "MM3" body port configuration code when ordering valves to mate with these manifolds. To complete a solenoid valve manifold assembly please order a manifold and then order the valves separately. Valves screw easily onto the manifold. If needed, a spanner tool for installing the valves is available, as are blank plugs to block off unused ports, with a variety of O-ring material options. Typical applications for Gems Sensors solenoid valve manifolds include thermal control, waste handling, gas delivery, liquid delivery, fluid mixing, and inventory management systems.