Gems Pressure Transducers and Switches: Gems offers a wide range of industrial pressure sensors, transducers, and switches. Technologies include chemical vapor deposition (CVD), sputtered thin film, capacitance, and micromachined silicon pressure transducers. Gems industrial pressure switches provide basic on/off functionality, either factory set point or adjustable, for a broad range of performance compatibility. CVD-based solid-state pressure switches with a field-proven ASIC design are built for especially harsh environments.
Gems Sensors & Controls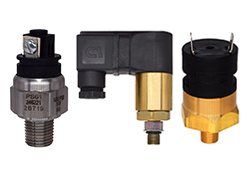 Gems Sensors Pressure Switches
cover a wide range of applications from 2 to 6000 psi (40 mbar to 400 bar) in a variety of types including vacuum, differential, specialty and general. With field adjustable or factory set options, these pressure switches are ideal for oil, liquid, air, gas, coolant and water pressure applications. These rugged and dependable pressure switches come in a variety of materials from stainless steel, brass, aluminum, zinc-plated steel, and reinforced plastic. Wetted materials and diaphragm available in Buna N, Teflon® coated Kapton®, stainless steel, PTFE, EPDM or Viton® and a pressure port available in stainless steel, brass, zinc, or aluminum.
Gems Sensors and Controls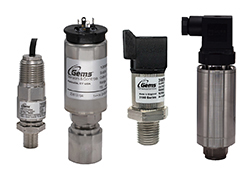 Gems Sensors Pressure Transducers
feature an extensive range of options, technologies, and configurations to meet demanding applications including off-highway vehicles, natural gas, semiconductor, HVAC/R, robotics transportation and general industrial. With pressure ranges up to 10,000 psig (689 bar), high-accuracy and exceptional durability, the Gems Sensors portfolio of pressure transducers gives you the flexibility to specify the right sensor for your application.