RS232 to 485 Converters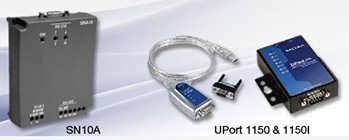 Serial Modbus RS232 to 485 Converters
Model SN10A is a DIN Rail mountable, industrial grade RS232 to 485 converter. Powered by 90-264VAC the SN10A can drive up to 32 standard devices (12 Kohm input) or up to 247 devices high impedance (96 Kohm input) devices, such as Future Design Control's interface products.
The SN10A DIP switch configurable Baud rate, Parity, Data & Stop bits so there is no software required to be installed on a PC. Just configure the SN10A using the DIP switches, connect to a PC (Serial port), connect the serial devices and you are ready to go.
Applications:
Convert PC Serial RS232 to RS485
Data Acquisition
Remote IO
Features:
Easy to Install and Use
Convert USB to Serial RS232 to RS485
Indicator Lights minimize Troubleshooting
An optional USB to Serial converter is available allowing the SN10A to be used on PC's without a serial port. These are plug & play devices requiring driver install on your PC, plug in one end to PC's USB and the serial end to the SN10A.