Distributed Modbus IO Modules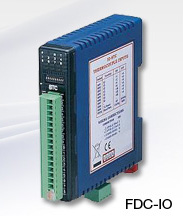 Data Acquisition and Distributed FDC-IO Modules
High Resolution Modbus RTU Protocol IO Modules for PLC, HMI, SCADA, etc.
The FDC-IO Modules offer Analog & Digital IO modules (Modbus RTU slave) for data acquisition and other applications offering reliable low-cost solution for distributed IO applications to PLC's, HMI's and/or PC based SCADA systems. All modules have LED indicators for visualization of IO status (digital), fault diagnostic analysis and easy DIP Switch configuration for Modbus addressing from 1 to 127.
Applications:
Data Acquisition
Remote IO
Features:
Serial Modbus RTU RS485
Analog Input T/C, RDT, mA & VDC Modules
Combination Digital Input & Output Modules
Digital Input Modules
Digital Output Modules
The optional IO Studio DAQ (Data Acquisition) software provides the same features as the IO Studio configuration software but also real time viewing & data acquisition of RTU/Modbus TCP slave devices like the FDC-IO Modules. The software shows real-time data in the form of digital values, bar graphs, trends, etc. as well as a historical data viewer with a maximum of 1024 tags.