Sterling Steam Control products are designed to help you maintain temperature, flow, and pressure, ensuring you get the most from your system. Sterlco® self-modulating Temperature Control Valves are temperature actuated, self-powered, fully balanced, and applicable to heating or cooling processes using water, oil, steam, or other fluids.
Control and protection are critical to the success of your operation. Sterlco's simple yet efficient design requires minimum maintenance and heavy-duty construction assures long valve life for commercial and industrial HVAC, food, beverage, pharmaceuticals, hospitals, schools, power utilities, refineries and petrochemical applications.
Sterlco Radiator Valves feature practical, simple styling for your steam or hot water heating systems. Sterling Sterlco® Strainers are engineered for water or steam, and are adaptable for many other uses. Steam Traps are preferred for efficient, economical vacuum, and pressure service. All Sterling Portable Chillers feature a unique design that simplifies service and maintenance while conserving valuable production floor space. A wide range of water and hot oil Temperature Control Units are available to suit your injection molding, blow molding, extrusion, or other industrial process needs.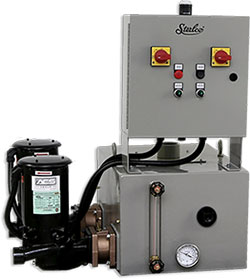 Boiler Feed Pumps: 4600 steel, 4700 cast iron, and 4800 SS Series Boiler Feed Units - Maximum Temperature of 212° F: Sterlco® atmospherically vented boiler feed tanks are designed to supply water to the boilers to maintain water supply at various operating loads.
In addition, these units can be paired with a Sterlco® K-Series 2′ NPSH Pump. Sterlco® K-series 2′ NPSH Pumps are designed to pump hot condensate up to 212° F. These pumps are equipped with a stainless steel impeller and inducer to assure long operating life. Customizable tanks and specialty pump options are available.