Apollo® Valves has earned a reputation for developing new products to meet emerging market demands. Previously known as Conbraco Industries, Apollo Valves is a leading manufacturer of flow control products for U.S. and International markets. Apollo products include ball valves, actuators & controls, safety relief valves, backflow prevention devices, water pressure reducing valves, mixing valves, check valves, gates & globes, and more.
While some see valve manufacturing as a mature industry, Apollo never fails to seize opportunities for innovation. Constantly developing and introducing new products, and focusing on quality and problem-solving innovations, Apollo Valves continues to produce top quality and reliable flow control solutions.
M&M Control offers a full line of Apollo Valves products. For additional product detail or for help with your application, please refer to our Apollo pages or give us a call today!
· SRVs: Brass/bronze safety relief valves protect ASME Section IV hot water heating boilers and hydronic heating systems. High capacity design features corrosion resistant construction. Brass, satin or polished chrome finishes available.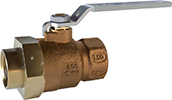 · Ball Valves:The Apollo 77CLF300 Series Union End Ball Valve features dezincification resistant Lead Free bronze body, generously sized RPTFE seats and stem packing, and a lead free "Solid Ball" design that delivers true full-port flow performance. Cast and machined in Apollo's South Carolina manufacturing plants using lead free materials.
· Check Valves: The Apollo® Model DC4AY Double Check Valves and DCLF4AY Lead Free Double Check Valves prevent contamination of the potable water supply due to back-siphonage or backpressure from substances that are objectionable to the potable water supply, but non-health hazards. The modular check valve cartridges provide captured springs, replaceable seats, and reversible silicone seat discs.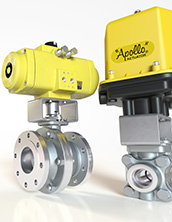 · Actuators & Controls: Designed and manufactured for the ultimate durability and reliability, "Apollo" pneumatic rack & pinion actuators provide outstanding service life. "Apollo" rack & pinion actuators have replaceable insert drive adapters in all but the largest models, and many units have dual ISO 5211 "F" series bolt patterns. The numerous actuator drive and bolt pattern combinations allow direct mounting of several valve styles.
Designed to be rugged and easily installed, "Apollo" AE Series electric actuators deliver the most desirable features and performance in their class. All sizes now CSA listed as standard.
· PRVs: The Apollo Model FF Fast Fill/Feedwater Pressure Regulator provides the heating boiler with make up water at reduced inlet pressure with a high capacity purge / quick fill capability. They are manufactured in the US from proven ASTM grade materials for corrosion resistance and long life.